The Congregation of Norbertine Sisters in Wilmington is one of the branches on the family tree of the Norbertine Order which lives according to the age-old inspiration of St. Norbert (1080-1134) and the Rule of St. Augustine.
Our community was founded by the General House of the Congregation of Norbertine Sisters in Slovakia. The Congregation was originally established in 1902 in the Czech Republic by Fr. Vojtech Frejka, a Norbertine Father from the Abbey of Strahov in Prague, to renew the Norbertine way of life in the region. In 2006, Fr. Thomas Nelson, O.Praem from St. Michael's Abbey in Orange County, California, spoke with the Norbertine Sisters' Superior General, Mother Hermana, to establish a new community of active Norbertine sisters in the USA. In 2011 three sisters from Slovakia responded to that invitation and came to Wilmington, California. Since then, our growing community has been living in the convent built in 1950 belonging to SS. Peter and Paul Parish.
Our life is centered on daily Mass, praying the Divine Office, and Eucharistic Holy Hour. We strive for unity of mind and heart which overflows into a love that embraces all people. We humbly implore the Virgin Mary to teach us to be completely devoted to God and to serve His people with total dedication.
As Norbertines, we are not bound to any specific apostolate, but in the spirit of St. Norbert, we are "prepared for every good work." Our ministry includes running the Poverty Program which provides food and clothing for over 700 families, teaching religious education to children and adults, operating the parish bookstore, and working in the sacristy. In the spirit of St. Norbert, the Congregation has sought to maintain a balance between liturgical prayer, zeal for souls, and contemplation.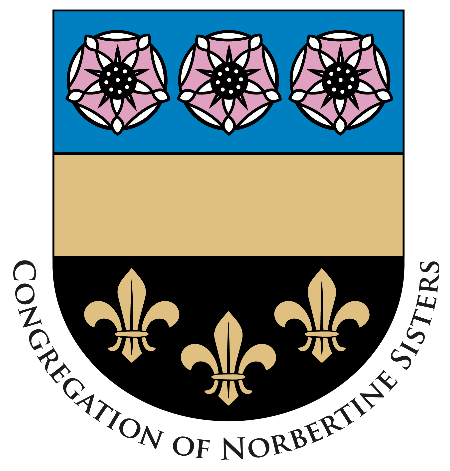 The Coat of Arms of our Congregation was made by an expert in heraldry on the impulse of Rev. Thaddeus Rehak, O. Praem. Our Coat of arms was later approved by the General Chapter of the Congregation in 1994.
Three roses
Taken from the coat of arms of the Norbertine Sisters Canonry of Doksany (Czech Republic), these roses represent the three Theological Virtues of Faith, Hope and Charity.
Golden section in the middle
Represents firmness, stronghold, stability.
Three golden lilies
These are taken from the coat of arms of the Norbertine Order and represent three religious vows of poverty, chastity and obedience.